We are your medical technology manufacturer from northern Germany
Our main focus is on products for medical gases with an emphasis on oxygen, the application, dosing and mixing as well as the display and measurement of the resulting vital parameters. In addition to the company's own manufactured products, the portfolio also includes service and advice for customers, right through to design and special construction for customer-specific requirements, as well as the manufacture of OEM products. As a wholesaler for monitoring accessories – especially pulse oximetry and oxygen sensors – we are known nationwide as a reliable partner.
WE THINK IN
PRESSURE & FLOW
With our portfolio, we primarily serve the medical specialised trade (B2B). Our products are also purchased by hospitals/ hospital chains, university hospitals and their affiliated institutions through selective direct sales. Our customers are national and international, with a focus on Europe, but are also based in non-European markets (e.g. Israel, China, America, Middle East).
If you need series products from our portfolio or a special solution in the area of PRESSURE & FLOW, please do not hesitate to contact us.
2022
In summer 2022 we moved to our new office and production building in Lübeck-Schlutup. This will also provide additional space for our in-house CNC machining operations at the Lübeck site by 2026.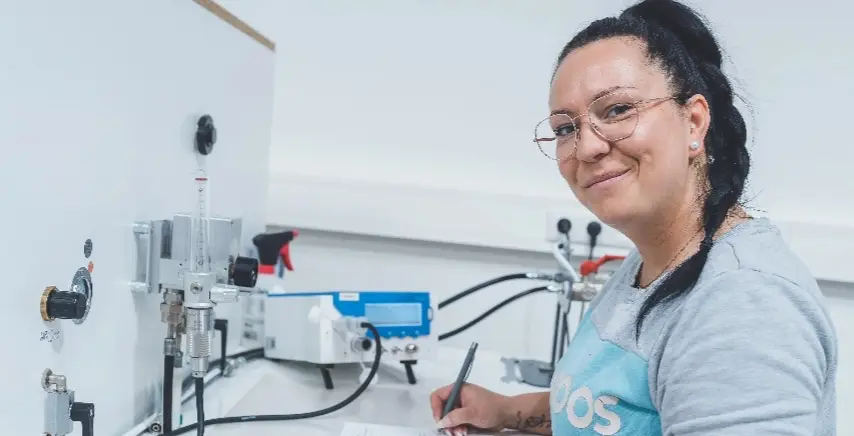 2016
Since 2016, we have expanded our product portfolio by developing, approving, manufacturing and marketing gas mixers for oxygen-gas mixtures (oxygen / nitrous oxide / NO) in variable modular design. 2020 was a year with many challenges and strong growth in employees and production capacities due to the pandemic-related system relevance.
2015
Since autumn 2015 our business premises are located in Lübeck (OT Schlutup). The additional production space gained by relocating our headquarters allowed us to move LOX production from the USA to our German site in Lübeck in spring 2016 - making us 100% MADE in GERMANY.
2012
At the end of 2012, the liquid oxygen (LOX) product line EasyMate for the homecare market was purchased from Precision Medical / USA. The LOX products were already successfully introduced and distributed by us in Europe before. In spring 2013, production of the LOX product line began in the USA at our production site in Bethlehem/PA.
2005
Since 2005, we have had our own ISO 13485-certified (CE0482) development branch for medical devices with our own production in Germany and an affiliated in-house testing service for the authority-independent testing of pressure vessels. Since 2012, we have been manufacturing our products with the trademark "QUALITY" as our own brand.
Partner for pressure reducers and demand systems – To be able to act in an emergency, you have to be properly prepared. The first step towards this is education. In DAN courses, you learn the individual first aid steps you need to be able to take care of an injured person and you learn how best to work together with medical professionals.
Bucher Leichtbau AG, Switzerland
Partner for oxygen supply systems in aviation – Anyone who has to master special situations needs suitable means to do so. Especially where it is a matter of saving lives from the air or transporting patients by air.
Dräger Medical, Lübeck, Germany
OEM partner for gas blenders – so that technology becomes 'technology for life'. Dräger manufactures medical and safety technology products. "In this way, we protect, support and save the lives of people in hospitals and fire services, rescue services, public authorities, in mining as well as in industry all over the world."
HELIOS Hospital Group – DEHAS Medical Systems supplies the HELIOS Hospital Group in Germany with monitoring accessories, with a focus on oxygen sensors and pulse oximetry sensors.